The Year of the Spinoffs -
Curse of the Spawn
kicked the bucket at #29 in March.
Spawn the Dark Ages
marks its entry in the same month.
Spawn the Undead
, the third spinoff was released in June and
Sam & Twitch
appeared in August. Spawn the monthly series meantime was pretty consistent, releasing a nice 12 issues plus and an annual.
Spawn Annual Volume 1
January 1999
The first Spawn Annual to be released, titled 'Blood and Shadow'. Written by Paul Jenkins and illustrated by Ashley Woods, it is sort of a predecessor to
Spawn the Undead
and frankly much more superior a product. This volume is apparently a favourite of Todd McFarlane.
Curse of the Spawn #29
March 1999The Last of Curse
- In March 1999, issue #29 marks the last issue of 'Curse', making way for
Spawn the Dark Ages
.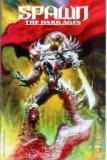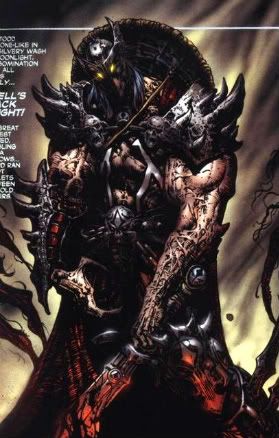 Spawn the Dark Ages #1
March 1999
Brian Holguin and Liam McCormack-Sharp teamed up in this second regular series spin-off with
Spawn the Dark Ages
in March 1999, hitting No.1 in its debut. The story centred around Lord Iain Covenant who in AD901 was killed in a holy crusade and returned as a Hellspawn -
Spawn the Black Knight
. The series lasted until October 2001 with issue #28. Oddly enough, spawn.com mentioned there are only 27 issues! As a collectible figure, he first appeared as the ultra-dull 'Spawn the Dark Ages i.023' of Series 24 in October 2003.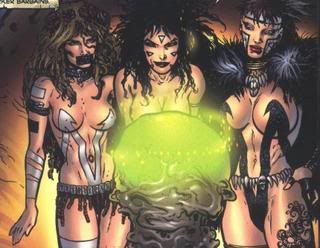 The first time I saw the Three Sisters, my first thought - gosh, are there a shortage of fabrics in 10th century Europe? But well, more Spawns in Spawndom (nice slave M on their bodies) and She-Spawns to boot, so why quibbles. Maybe these She-Spawns felt like giving those Angelic Warriors a challenge on the flesh sweepstake and I guess, with the majority of comic readers being hormonally challenged, it probably helps to sell comics...but by #3, those 'M' starts to disappear, darn, temporary tattoes, fake spawns.
This art would make a great horse set in future Spawn series.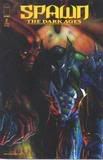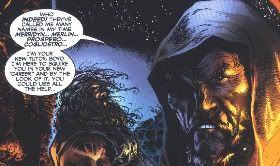 Spawn the Dark Ages #2
April 1999
Cogliostro has earlier appeared in the final pages of #1 but here in
Spawn the Dark Ages
#2, he gives a proper introduction of himself.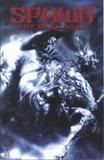 Spawn the Dark Ages #3
May 1999
Lord Covenant with Cogliostro - both incidentally shared the title of Black Knight! Check out the hot blue pants of Covenant.
Spawn the Undead #1
June 1999
In June 1999, the start of the third spin-off monthly series:
Spawn the Undead
. Written by Beau Smith and Paul Jenkins with illustrations by Dwayne Turner, The idea of Spawn as Guardian of the Damned works pretty well in
Spawn Annual Volume 1: Blood and Shadow
but monthly series...nah, I would choose Robert Wilson over wordy comics anytime. Nine issues later in February 2000, it went kaput.
Spawn the Dark Ages #6
August 1999
This issue has one of the best Spawn yet. He is nameless but he looks like he is from Pompeii.
Immaculata the nun recalled this nameless
'Pompeii Spawn'
in
#6
. He is her last kill as a Seraphic Huntress, one that brought regrets as she unwittingly levelled the city (Pompeii?) in AD79. There is no mention of the city's name and I am speculating of course since Brian Holguin, the writer of Dark Ages did not mention the name of the city. The background images however are definitely that of a Roman city. That Pompeii is known to engage in phallic worship is probably an unconscious reason why Immaculata choose to level it :0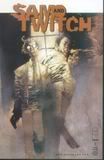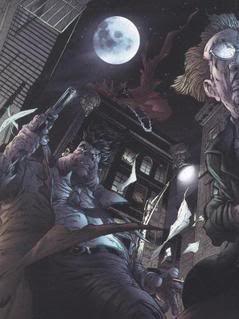 Sam and Twitch #1
August 1999
Brian Michael Bendis did an excellent job with this regular series spinoff in August 1999. It was by far the best in the Image lineup in 1999. Spawn made a shadowy appearance on the rooftop in page 4, one of the easiest guest appearance ever!
Spawn the Dark Ages #7
September 1999
A similar pose adopted by Al Simmons the Spawn but instead of skull, it is a mask.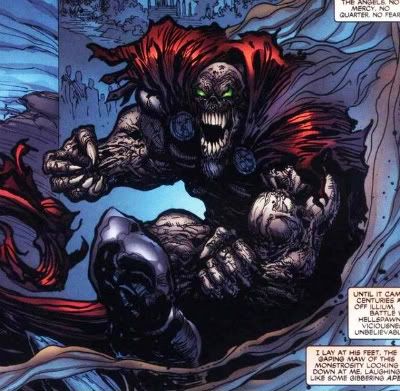 Also in the same issue, Immaculata recalled more Spawns that she has destroyed.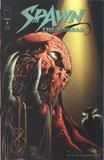 Spawn the Undead #4
September 1999
Spawn the Undead
is pretty boring, not a single new Spawn except for this pretty yucky Spawn wannabe - Reverend Song Sung Bloo.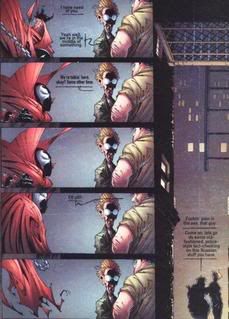 Sam & Twitch #4
November 1999
Sam & Twitch #4
marks the second appearance of Spawn in this spin-off. He would not appear again for the rest of the series after being rudely told to back off by Sam.