A collection of Spawns that appeared in both TV and Cinema screens. The list is in descending order. Image of Spawn sitting by his lonesome self inside the cinema is courtesy ofHunter R.
HOUSE MD
SEASON 6 EPISODE 4: INSTANT KARMA
OCTOBER 2009
It takes 'House M.D' five years (I stopped watching after season 3) before they realised that their series is incomplete without Spawn making an appearance. Tyranide (Russia) spotted this Manga Spawn 2 (June 2008 Series 34) among the prize collection of Jack, the teenage son of a wealthy businessman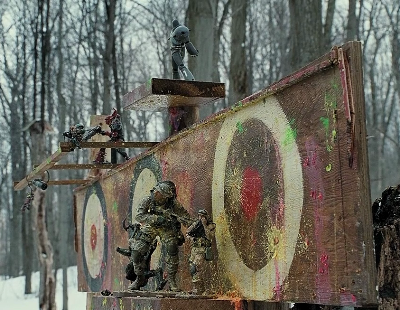 ORPHAN
JULY 2009
A cautionary tale about adoption and the need to ensure that the orphanage is properly edutrust certified before visiting them. Never did finish the movie - I simply found what I was looking for and watched Burn Notice instead.
McFarlane figures were the target of Daniel Coleman's paintball practise but when the figures provide futile resistance, this dastardly child decides to shoot a peaceful and angelic dovbe instead...no, he is not the "orphan" in this movie although he nearly become one.
Robot #1 from the Omega Squadron (October 2007 Series 32) is one of his victim, looks like this young killer did not possess the entire Omega Squ.adron.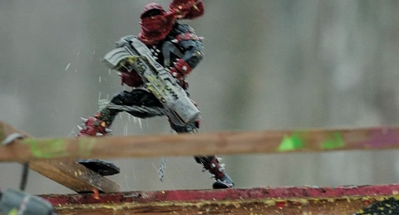 Among his collection is i131 (March 2005 Series 27).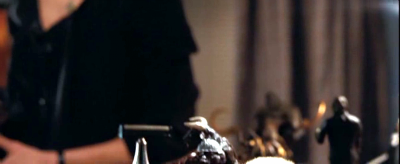 THE DAY THE EARTH STOOD STILL
DECEMBER 2008
The re-make of this 1951 movie features a Raven Spawn (October 2007 Series 32) in Jacob Benson's room.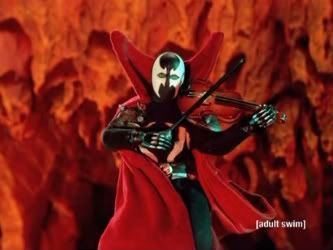 ROBOT CHICKENSSEASON 3 EPISODE 9OCTOBER 2007
On October 7th, Robot Chickens, a stop-motion animated comedy TV series featured Spawn and Malebolgia in a violin-playing contest.
SOUTH PARK SEASON 11 EPISODE 12OCTOBER 2007
In the conclusion of the Imaginationland Trilogy on October 31st, Spawn is one of the many characters that appeared - I went through the trilogy several times but have yet to discover him!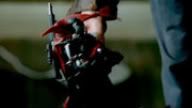 LIVE FREE OR DIE HARDJUNE 2007
Bruce Willis examined Spawn i007 (October 2006 Supersize Series 6) before breaking it in this third edition of the 'Die Hard' movie franchise.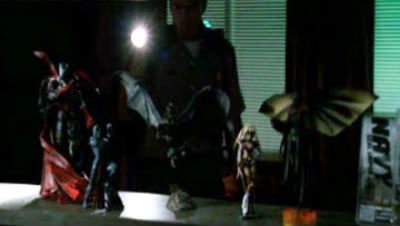 CSISEASON 7 EPISODE 24MAY 2007
Spawn figures - the i007 (October 2006 Supersize Series 6), Spawn the Marauder (May 2007Series 31) and Nightmare Spawn (May 2007 Series 31), on display in CSI, the Las Vegas version. It was originally mistakenly announced as CSI: Miami. Open display? The collector better be armed with cans of compressed air during spring cleaning.
THIR13EN GHOSTS
OCTOBER 2001
Many thanks to Batboy 13 from the USA for bringing up the following scenes in 'Thir13en Ghosts' and he was very precise about it too, really appreciate it. In the movie, Cyrus Kriticos is a very rich collector of unique things and following are samples: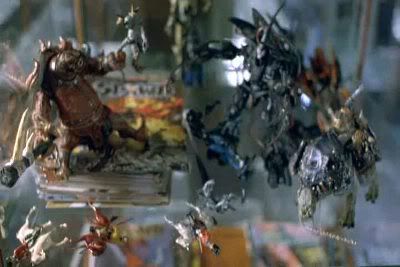 Cyber Spawn and peripheral figures.
Mandarin Spawn.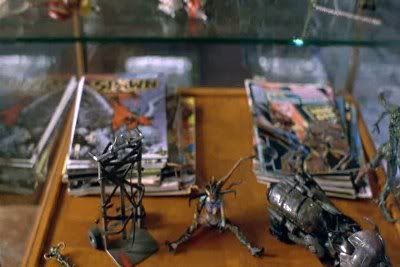 There is a Nitro Rider together with comics and other figures.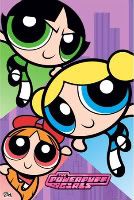 THE POWERPUFF GIRLSSEASON 3 EPISODE 32B: SUPER ZEROESOCTOBER 2000
Buttercup, one of the three Powerpuff Girls was inspired by her hero 'Spore' (a parody of Spawn) and decided to transform herself into Mange (again a parody of Spawn). I am not a fan of this cartoon show (and even if I am, there is no way I would admit to it) but this particular episode - Season 3 Episode 32B titled Super Zeroes and released on 20/10/2000 is pretty hilarious. The script taken from rowdyruff.net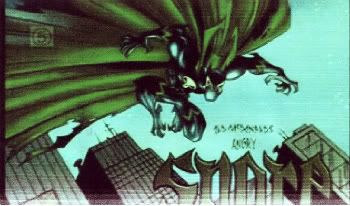 Buttercup about her favourite hero: Spore
Buttercup: …"Spore"!
(The full title of the strip: "Old McDonald's Angry Spore." Next panel: the creature, Spore, rising from a sea of flames.)
Buttercup: (voice rising) Out of the darkness he rises to kick butt!
(On the end of this, we see a panel in which Spore punches a gunman in the face. Effect: "AACK!" Next panel: a thug being kicked in the jaw. Buttercup's next line matches the effects in this one and the next.)
Buttercup: Kerak! (A beam of energy from his hand, with an off-panel explosion.) Blam!
(Cut to a panel in which Spore holds a large assault weapon. Word balloon: "It's show time!" As Buttercup continues, tilt down to the bottom of the picture. Effect: "LOAD.")
Buttercup: (huskily) That hurt you more than it hurt me!
Buttercup extoling about the scabs that never heal
Buttercup: Yeah, and Spore has scabs that never heal. (Pan to Bubbles.)
Bubbles: Bunny-Bunny could heal 'em. (Back to each sister in turn.)
Blossom: No, she couldn't. She's not a hero.
Buttercup: And they never heal!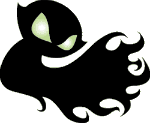 Buttercup as Mange
Buttercup: Uh-uh. Too bright. Mange only travels at night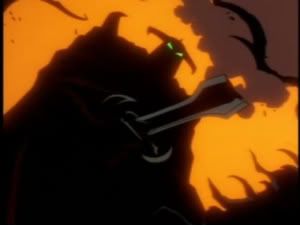 SPAWN
SEASON 3 EPISODE 1
MAY 1999
Cogliostro is a busy man indeed in mid-1999, here he appeared in the animated series of Spawn pronouncing himself as the Black Knight, the errand boy of Malebolgia who collect soul on his behalf. Disillusioned with his career choice, he took up the black art and became Merlin.
DOGMAMAY 1999
Mentioned in IMDB Spawn Movie Connection that one of the triplet in the movie is wearing a Spawn t-shirt, it is actually Hellboy.
SPAWN
AUGUST 1997
Starring Michael Jai White as Al Simmons
HBO SPAWN
MAY 1997
The very watchable Spawn animated series titled 'Todd McFarlane's Spawn' commences its run in 1997. The scriptwriting was handled superbly by Alan McElroy while the animation is in the hands of the South Koreans. The animated series lasted 3 seasons, with 6 episodes per season. The third season ends with a cliffhanger, the sort of "to be continued" deathknell you so often see in comics. The entire run is available in Youtube.